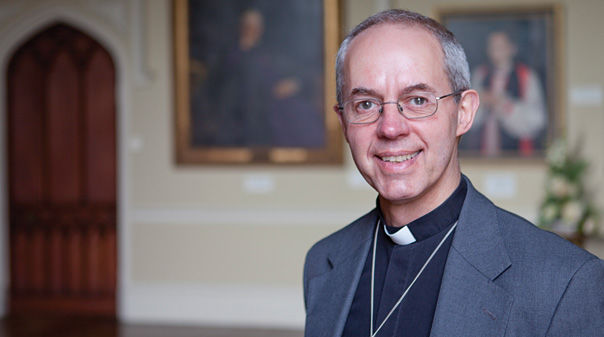 Archbishop of Canterbury visited the Shrine in November 2018
Archbishop Justin Welby, the 105th Archbishop of Canterbury, is continuing the practice of his predecessor of making three-day pastoral visits to all the dioceses around the country. And in November 2018 it was the turn of the Norwich diocese. The programme of visits included a visit to Norwich market, meeting the crew at Caister Lifeboat Station, fish and chips in Great Yarmouth Minster, 'A Big Sing For Peace' at King's Lynn Minster – and a one and a half hour stop-off at the Shrine.
The party were greeted on Friday 9th November at the west front of the Shrine Church by Fr Kevin Smith, Priest Administrator of the Shrine who then escorted the Archbishop into the Holy House where private prayers were said. Then the party moved on to the Pilgrim Hall where local people from all denominations had been invited to join the Archbishop for coffee and – as we had been assured – rather superior biscuits! Both the Bishop of Norwich and the Archbishop proved equally adept at doing a meet and greet circuit around the room and there was a lovely buzz of welcome from all.
Just before 11.15 am everyone made their way to the Shrine gardens where seating had been set up in the shadow of the Calvary. The sun was shining but a bitter east wind was blowing. The service conducted by Fr Kevin was "A Liturgy of the Cross" – a reflection on the importance of the sacrifice of Jesus on the cross for all Christians. Archbishop Justin gave a short homily on the need for reconciliation and how the cross was the most potent inspiration for that to happen.
This theme was reinforced by children from Walsingham and Hindringham primary schools – standing at the foot of the Calvary – singing Mrs C F Alexander's wonderful hymn There is a Green Hill Far Away – surely the simplest and most direct piece of Christian instruction ever written. The Archbishop was visibly moved by the children's singing and at the end of the service went to talk to them all.
The intercessions were led by representatives of all the local churches and after the singing of When I Survey the Wondrous Cross, the assembled congregation received the Archbishop's blessing. There was just enough time for a final mingling before the minibus swung back into action transporting our visitors to King's Lynn Minster.
Archbishop Justin first visited Walsingham in 2014 to take part in the Shrine's Youth Pilgrimage. He will be returning in 2019 to preach at the National Pilgrimage on Monday, 27th May – the Late Spring Bank Holiday.