Shrine Elects New Guardian of the Holy House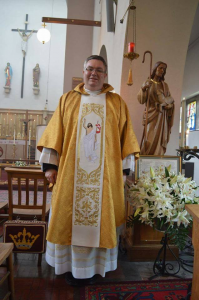 The Shrine is delighted to announce the election of the Reverend Prebendary Mark McIntyre CMP as a Priest Guardian of the Holy House.
Fr Mark has been a pilgrim to Walsingham since his childhood. He trained for the priesthood at the College of the Resurrection, Mirfield and has served all his ministry in the Diocese of Lichfield. In 2020,  Fr Mark celebrates twenty five years as a priest. He has been Vicar of S. Gabriel's, Fulbrook in Walsall since 2011.
Commenting on his election, Fr Mark said: "Our Lady of Walsingham has, since my childhood, been a constant source of strength and comfort to me. In times of vocation discovery, in times of change, joy, sorrow and loss, Our Lady's prayers have never been far away. I am honoured and overwhelmed to be elected to serve the Shrine and Our Lady in this way."
Fr Mark's wisdom and experience as a parish priest and pilgrim from the West Midlands will be of great benefit to the College of Guardians. He will be Installed in the Shrine Church in Walsingham on Monday 27th April 2020.