New Shrine Priest Appointed
6 May 2020 – The appointment of a new Shrine Priest has been today announced by The Shrine of Our Lady of Walsingham.
Fr Ben Bradshaw is no stranger to Walsingham. He is the local Superior for the Isle of Man's Walsingham Cell and a regular pilgrim to 'England's Nazareth'.
Fr Ben was born in 1986, graduated with a theology degree from the University of Sheffield, and trained for the priesthood at the College of the Resurrection, Mirfield.  After ordination he served at S. Matthew's, Little Lever, in the Diocese of Manchester.  Since 2017 he has served as chaplain to the Bishop of Sodor and Man on the Isle of Man. He is also a hospice chaplain and Chaplain to the Diocesan Mothers' Union and the mental health unit on the island.
Speaking on his appointment this week, Fr Ben said: "I am absolutely delighted, humbled and extremely grateful for the great privilege and opportunity to become the next Shrine Priest and to serve God, Our Lord, Our Lady, and the very many pilgrims who visit Walsingham. It has been an honour to serve the Bishop of Sodor and Man as his chaplain and I am grateful to Bishop Peter for his continuous support and prayers. I now look forward to this new chapter in my ministry and to working with Fr Kevin and all the staff at the Shrine who I know work tirelessly in offering faithful and committed service to all who come to England's Nazareth".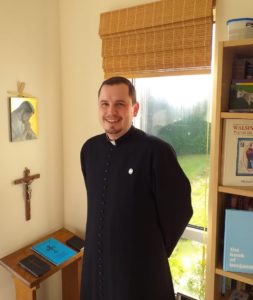 Fr Kevin Smith, Priest Administrator, said: "I am very pleased indeed that Fr Ben is joining us in the position of Shrine Priest – I have no doubt that he will bring great enthusiasm, vision and experience to the work of the Shrine".
Fr Ben is currently studying for a Masters' degree in African Christianity. A keen footballer and supporter of Bolton Wanderers, he recently volunteered to join the Archbishop of Canterbury's football team. Lockdown restrictions permitting, Fr Ben and his family will move to Walsingham in the summer.
Notes for editors
The Shrine of Our Lady of Walsingham (www.anglican-shrine.org.uk) has been a place of pilgrimage since the 11th Century. Founded in 1061 by the Lady Richeldis who received a vision of Mary, the Mother of Jesus, the Shrine was destroyed by Henry VIII in 1538, and restored again in 1922 by Father Patten, the Anglican Vicar of Walsingham.  In medieval times, the Shrine was visited by Henry III, Edward I, Edward II, Edward III, Henry VI, Henry VII and finally Henry VIII (plus two of his wives).
Each year, the Shrine of Our Lady of Walsingham welcomes tens of thousands of pilgrims and visitors from all over the world to Walsingham. The historic Shrine Church, visitor centre, gardens, refectory and extensive accommodation provide a welcome sanctuary for pilgrims, tourists and first-time visitors making the journey to 'England's Nazareth'.
– Ends –
For further information please contact:
Victoria McDougall
01328 824214 / 07765 866 838