A New Chapter for The Shrine Shop
It was in the rather dull but warm English summer of 1926, the year of the General Strike and of Martial Law, that a small house was purchased in High Street, Walsingham – a house that was later to become the Hospice of SS Michael and George, and within this property, the first Shrine Shop was opened managed by Alice Doyle-Smithe. Yet within five years, the modern history of the Shrine and its shop was to change forever.
In 1931, as the Great Depression loomed, Holy House was opened and books and cards, devotional items and souvenirs were sold inside the building where St Edward's Chapel is now situated. The growing popularity of the shop brought with it increased noise and by 1936 the enterprise was relocated to a small hut, at first in the forecourt of the Shrine Church, and later, to where the Guild of All Souls' Chapel is now situated. Soon the shop was handed on to a new manager, Dorothy Ferrier, who served in her position from 1945 until 1972.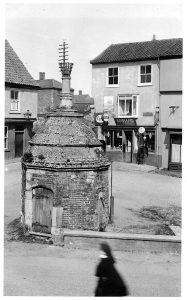 During 1970, the shrine shop moved once again into a small property in Common Place and in 1972 Richard Hill took over as its manager. In 1987, as business thrived, Bunn's Garage next door was acquired and the floor space was expanded into the Shrine Shop we all love today. Located at the same address, the shop remains a treasure trove of religious souvenirs, books, and gifts commemorating Our Lady of Walsingham.
Shrine Shop unveils new website
This year, the Shrine Shop has undergone a major transformation with the launch of a brand new website (www.shrineshoponline.co.uk).  Unveiled in September, the new online shop features simple and attractive web design and an intuitive interface enabling customers to browse the store and order exclusive souvenirs, gifts and churchware which can be delivered all over the world.  The site is also compatible with mobile and tablet devices.
Welcoming the launch of the new online shop, Christopher Hamilton Emery, Director of Operations said: "With our new online shop, it's now even easier to buy unique devotional gifts and souvenirs from the Anglican Shrine in Walsingham; the contribution from which helps to maintain this important national pilgrimage centre for future generations."
From our small beginnings in the 1920s, we continue to welcome pilgrims and visitors to  the Shrine Shop in Common Place and to our new website under our current manager, Robert Graham. We hope you will join us on the next chapter in our continued mission to serve you all, wherever you may be.