The Reverend Canon Beaumont Brandie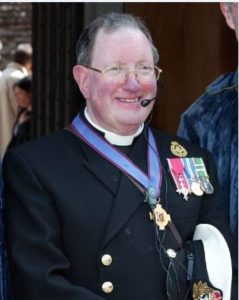 The Shrine has received news of the death on Tuesday 19th May of Fr Beaumont Brandie, following a long but courageously borne illness. He was aged 79 years.
A priest for over 50 years, Fr Beau gave his heart and soul in service to the Lord and his Church. He had a deep devotion to Our Lady of Walsingham and led many pilgrimages from his parishes in Brighton. He was a member of the Order of Our Lady of Walsingham and will perhaps be most remembered by pilgrims as Chief Steward of the National Pilgrimage, a role he undertook for some 36 years with extraordinary energy and dedication.
On completion of the Milner Wing in 2006, in recognition of his outstanding service to the Shrine, the Guardians named the arch leading into the Shrine Grounds in his honour. His remains will one day rest under the Brandie Gate.
May he rest in the peace of his Lord and in the company of Blessed Mary.