INSEPARABLE- Friends For Life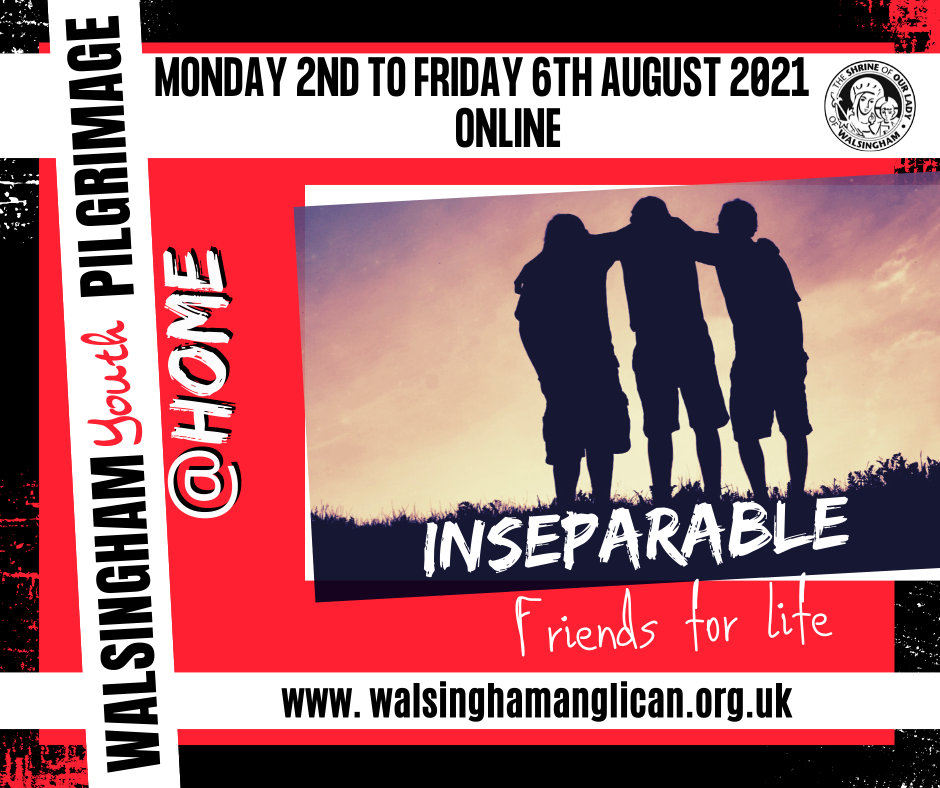 Monday 2nd to Friday 6th August 2021
Welcome to the Shrine of Our Lady of Walsingham for this year's Youth Pilgrimage @ Home!
Sadly, we are not able to meet together as a large group this year, but many groups have now returned to meeting in person, so this year we would like to encourage you to take part together as a group. To support you there will be various resources including daily videos, suggested activities and Mass resources for you to celebrate Mass in your own church at home. Some groups have decided to meet each day during the week and some have decided to camp together in the Church grounds! There will also be the usual music from the fabulous CJM!
If you are not able to get together as a group or maybe you don't belong to a Youth Group, you can still take part at home by watching the videos and doing the activities at home.
Each day will begin with Morning Worship led by groups from different parts of the country which will include a song from CJM, prayer, drama and talk and will introduce the theme for the day. There will then be range of activities, games and group sessions to choose from or create your own! The day will then end at 4.00pm with our evening worship session. If you decide to carry on into the evening you could add in your own activities such as a disco or BBQ etc.
Videos will be released at the times below and will remain available to view at any time.
INSEPARABLE- Friends For Life
Our friends are some of the most important and influential people in our lives. Often we have many different types of friends: best friends, school friends, sports team friends, church friends and people we are friends with on social media who we might not have ever met in person.
Friendship is a gift from God and our friendships should model Christ's love for us. There are not many things in this world that are more valuable than true friendship. We are called to love our friends for who they are, not what they can offer us.
The 2021 Youth Pilgrimage will explore the theme of Christian friendship with its ups and downs, helping us to look to Christ as our model so that we can be the best friends possible.
Video Content
Accompanying Resources
Also available are three booklets to accompany the week, which can be downloaded below. One booklet is for Young Pilgrims and contains thoughts and reflections on the daily videos along with lots of fun activities to do. There is also suggested sessions for Youth Groups to do together with their leaders. Finally, there are suggestions for readings and propers at celebrations of Mass during the week.
Programme of events
Monday 2nd August: Chosen to be friends
4.00pm Welcome and First Visit to the Holy House
Tuesday 3rd August: Friends with Jesus
10.30am Morning Worship
4.00pm  Virtual Holy Mile and Benediction
Wednesday 4th August: Friends with Mary
10.30am Morning Worship
4.00pm The Rosary
Wednesday 5th August: Friends with each other
10.30am Morning Worship
4.00pm  Bp Philip North
Friday 6th August: Friends for life
10.30am Farewell and Last Visit
Make a donation
As a national centre of pilgrimage and a registered charity, the Shrine's income is wholly reliant on the income we receive from our pilgrims and visitors and the money raised through offerings and appeals. Donations of all sizes make a real difference to the life of the Shrine and the outreach work and pastoral care that we are able to deliver. To make a donation in support of the Shrine's work with children and young people please click below. 

The videos will be released daily and will be available to watch again.
You can view the Youth Pilgrimage @ Home on our website: https://www.walsinghamanglican.org.uk/ and also via our:
YouTube Channel: https://bit.ly/3cPXl5e
Vimeo Channel: https://vimeo.com/channels/youthpilgrimage
Visit our dedicated Youth Pilgrimage Facebook Page: @olwyp