What is the Youth Pilgrimage?
The Youth Pilgrimage is a week of lively worship, teaching, fellowship and fun for 11-18 year olds.
The traditional pilgrimage devotions are presented in an up beat, lively and enjoyable way which makes them relevant for our young people in today's world. Over 500 young people gather in Walsingham for the week from all over the UK and internationally, giving them a chance to meet other Christians and explore their faith in a safe environment. Over the years it has changed the lives of countless young people who have never forgotten their week in Walsingham and many of them have come to love the Shrine and to make the pilgrimage ever since.
The week includes:
Daily Mass in the Big Top
Fantastic music provided by CJM
BBQ and disco
Lively worship
Late Night Liturgy
The Holy Mile Walk
Crafts, Sports, Music and Inflatables
Fun, friendship and football!
A variety of Workshops
Free afternoons to explore or visit the beach
And lots more!
You can choose from self-catering or our fully catered option and this year, we are pleased to announce that tents, sleeping bags, airbeds and even pillows are available to hire if you would need to.
For further information on hiring tents please visit the Campeazy website by clicking on the link below. You will need to book your tent hire by 1st June and please remember that you will need to book your places for the Youth Pilgrimage with us as well.

To get a taste of what is on offer click below to view the video and photo gallery of the 2019 pilgrimage:
https://player.vimeo.com/video/357310060
https://www.walsinghamanglican.org.uk/photo-gallery/youth-pilgrimage-2019/
Read the online Press Release about the experiences of the young pilgrims (& their bishop!) from the Diocese of Blackburn - click here
This years Youth Pilgrimage is called 'Inseparable - Friends for Life'
Our friends are some of the most important and influential people in our lives. Often we have many different types of friends: best friends, school friends, sports team friends, church friends and people we are friends with on social media who we might not have ever met in person.
Friendship is a gift from God and our friendships should model Christ's love for us. There are not many things in this world that are more valuable than true friendship. We are called to love our friends for who they are, not what they can offer us.
The 2020 Youth Pilgrimage will explore the theme of Christian friendship with its ups and downs, helping us to look to Christ as our model so that we can be the best friends possible.
For further information and details of how to book, please download our Youth-Pilgrimage-Booklet-2020.
Visit our Photo Gallery for a full range of images of the WYP week of August 2019.
Support our Young Pilgrims - Godparents
In 2019, hundreds of young people were able to make the journey to Walsingham for the annual Youth Pilgrimage because of the prayers and financial support of hundreds of 'Godparents'- pilgrims and friends who raised over £13,000. If you would like to support our young people in this way in 2020, please click here: Godparents-leaflet-2020 for full information about our Godparents Scheme and how to make a donation.
Financial support available
If you have Young Pilgrims in your parish who are unable to attend due to financial constraints, we may be able to offer assistance. We are also able to provide grants to help with transport costs for your group.
Please get in touch with Caroline Ward, our Schools and Young Pilgrims Officer, by email for further details: c.ward@olw-shrine.org.uk
Please note that all applications for funding will need to received by Monday 1st June 2020.
Volunteering
"To do our part in helping the pilgrimage as a whole to run smoothly, and to witness so many young pilgrims learn of Walsingham and of God's love for them as wonderfully-made people is, and was a profoundly moving experience. To be on the Ministry Team is such a privilege, and I would encourage any young pilgrims (18+) to think seriously about getting involved - you won't regret it!"
Joe Allen (Ministry Team 2019)
The Shrine of Our Lady of Walsingham is looking for volunteers (18 years+) to assist with the 2020 Youth Pilgrimage.
We need a number of volunteers for both our Ministry Team and our Crew.
As part of the ministry team, you will take an active part in preparing lively, stimulating worship for our Young Pilgrims. You must be available from Sunday 26th July until Saturday 8th August 2020 which includes a preparation week. All meals, accommodation and travel expenses are provided. This will be in the Shrine accommodation for the preparation week, but you will need a tent for the actual Youth Pilgrimage. This is an excellent opportunity to gain valuable experience in Young People's Ministry.
As part of the Crew you will assist with stewarding or in the Hub Cafe area. You will play a vital role in providing a memorable pilgrimage experience for our Young People. You will need to be available from Sunday 2nd until Friday 7th August. All meals, training and travel expense will be provided, but you will need your own camping equipment.
For further information about both of these roles or to apply please contact Caroline Ward, our Schools and Young Pilgrims Officer on c.ward@olw-shrine.org.uk or call 01328 824205.
The closing date for applications is Friday 30th April 2020.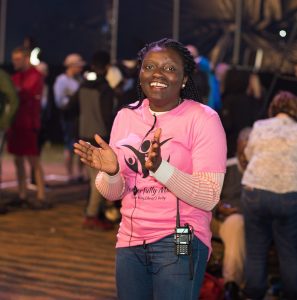 Thinking of joining us in 2020?
Click here for the Youth Pilgrimage Health & Safety Guidelines
Click here for a sample Risk Assessment Form
Click here for a Parental Consent Form
Click here for a copy of the Youth Pilgrimage Information Booklet (2019 Version)
Click here for a Safeguarding checklist
Click here for a copy of the Safeguarding policy