Friday 20th - Sunday 22nd November
Adoremus is a specially designed weekend pilgrimage for young adults (aged 18-35). For some it is the next step from the popular Youth Pilgrimage run at the Shrine each summer, and for others it might be their first encounter of England's Nazareth. Whatever the case, you are welcome to join us for this year's online pilgrimage and we look forward to having you with us.
We are delighted that this year's online pilgrimage will be led by The Reverend Philip Kennedy CMP. The teaching element of our studies (five talks in total) will be drawn from Bishop Rowan Williams' book, Being Disciples.
We recommend that participants obtain their own copy of Being Disciples in advance -  it is available to order online at the Shrine Shop.
In addition to the teaching elements, there will be opportunities to join virtually with the worship at the Shrine, to offer prayers, and to spend some social time together via Zoom.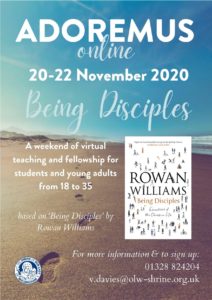 Programme of events
Friday 20th November
7.00pm                   First Visit Liturgy
7.30pm-8.30pm     Zoom drinks, a welcome from Fr Kevin Smith, Priest Administrator, followed by introductions.
Saturday 21st November
11.30am   Opening Prayer
11.30am-11.45am  Session 1: Being Disciples
11.45am-12 noon  Session 2: Forgiveness
12 noon   Angelus
- Long break -
4.00pm  Pilgrimage Mass of Our Lady
5.00pm-5.20pm  Sessions 3: Holiness
- Short break -
5.30pm-5.50pm  Session 4: Faith in Society
- Short break -
6.00pm  Shrine Prayers (live from the Holy House). Adoremus pilgrims are encouraged to submit intercessions in advance (please do so in confidence by emailing: adoremuswalsingham@gmail.com)
8.00pm  Zoom Meeting. An opportunity for some social time together as well as to reflect on what we've heard so far in the teaching sessions.
Sunday 22nd November
9.00am  Mass - Solemnity of Christ the King (live from the Shrine Church)
2.30pm-2.50pm  Session 5: Life in the Spirit
3.00pm  Last Visit Liturgy
3.30pm-4.00pm  Final Zoom meeting.  A chance to reflect on the weekend and to offer our farewells.
The team
Fr Philip Kennedy CMP
Fr Philip has been involved with Adoremus for the last three years and is leading this year's excellent team. He is a regular pilgrim to Walsingham and a Priest Associate of the Holy House. He has spent the last three years as Assistant Curate at St Michael's, Croydon and is preparing to move to be Assistant Priest at St Bartholomew's, Brighton.
Assisting him are:
Isobel Whelan
Isobel works for a charity that seeks to rehabilitate blind war veterans. She is Churchwarden of St George's, Bickley in the Diocese of Rochester
Fr Edward Carr
Assistant Priest at St Alban's, Holborn in the Diocese of London
Lizzie Lees
Development Worker in the Holy Redeemer Mission Partnership, Diocese of Sheffield
Fr Adam Burnham
Assistant Priest, Hanslope and Castlethorpe, Diocese of Oxford
Sign up today
To register (free of charge) and for further information call 01328 824204 or email v.davies@olw-shrine.org.uk.