Timetable of events
9.00am          Mass (live)
10.00am        Third Address from The Reverend Dr Kevin Walton (pre-recorded premiere)
12.00pm        Angelus, Midday Prayer and Last Visit (live)
Sunday, 9.00am: Mass 
Join Fr Kevin Smith, Priest Administrator, and Fr Ben Bradshaw, Shrine Priest, live from the Shrine Church.  Coverage will start from 8.50am.
Sunday, 10.00am: Third Address by The Reverend Dr Kevin Walton
'Crowned with glory and honour.'
Click below from 10.00am to view Fr Kevin Walton's third address.
Sunday, 12 noon: Angelus, Midday Prayer and Last Visit 
Join Fr Kevin Smith live in the Shrine Church for the Angelus, Midday Prayer and Last Visit to the Holy House.  Please click below to join us.
Thank you for joining us.
Make an offering
As a national centre of pilgrimage and a registered charity, the Shrine's income is wholly reliant on the income we receive from our pilgrims and visitors and the money raised through offerings and appeals. Donations of all sizes make a real difference to the life of the Shrine and the outreach work and pastoral care that we are able to deliver.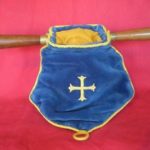 CLICK HERE TO MAKE AN OFFERING