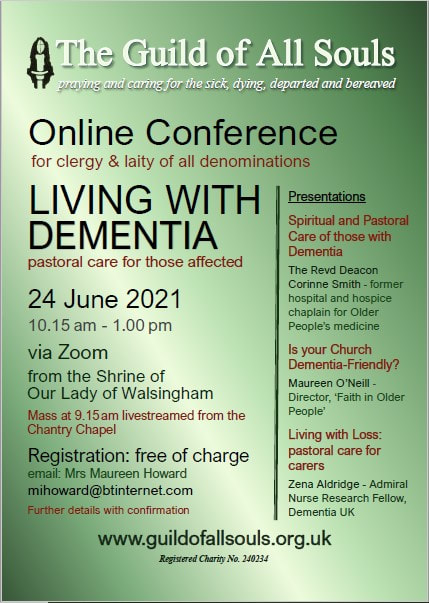 Living With Dementia
The Guild of All Souls annual day conference on this most important subject will now be online via Zoom from 10.15 am to 1.00pm from the Shrine of Our Lady of Walsingham & Mass will be live-streamed from the Chantry Chapel at 9.15 am and this will be available below.
The presentations from the conference will also be available below afterwards.

It is free of charge.
Anyone is welcome to register to take part.
Please visit the Guild of All Souls website for full details by clicking here.
The website contains further information and a link to make donations.
Alternatively, you can click the button below to make a donation to the valuable work of The Guild of All Souls.
Thursday 24th June 2021 - 9.15am
Mass from The Guild of All Souls Chapel
(if the live-stream does not appear at the correct time, please do try refreshing the page)
Spiritual and Pastoral Care of those with Dementia
The Revd Deacon Corinne Smith- Former Hospital and Hospice Chaplain for Older People's Medicine
Is your Church Dementia Friendly?
Maureen O'Neill- Director, 'Faith in Older People'
Living with Loss
Zena Aldridge- Research Fellow, Dementia UK, Hon. Lecturer University of East Anglia