The Shrine of Our Lady of Walsingham
Founded by the Lady Richeldis in 1061, destroyed by Henry VIII in 1538, restored in 1922 by Father Hope Patten, the Anglican Vicar of Walsingham – the Shrine has had an eventful history across nearly a thousand years. This medieval place of pilgrimage, which rivalled Canterbury as a destination, was visited by thousands of pilgrims from all across Britain and Europe. It became known as 'England's Nazareth' because of the nature of the vision which the Lady Richeldis experienced. (See The Story So Far). Today, after 350 years of post-Reformation neglect, the past 95 years have witnessed the dramatic restoration of pilgrimage to Walsingham.
At the heart of the Shrine of Our Lady lies the Holy House containing the image of Our Lady of Walsingham. The Holy House itself is contained within the highly-decorated Shrine Church. In the Shrine grounds can be found everything a pilgrim, tourist or visitor needs – residential accommodation, meeting rooms, the refectory, a cafe-bar and beautiful gardens. The Welcome Centre – part of the Milner Wing – offers fascinating insights into both historic and present day Walsingham.
The three major pilgrimages each year – the National, the Youth, and Healing and Renewal – bring thousands to Walsingham, some just for the day, others to stay in our accommodation or to camp in a local field. You can find out more about these events by clicking link below. Throughout the year groups large and small from parishes across the UK come on pilgrimage.
Voted the nation's favourite spiritual place by Radio 4 listeners, the Anglican Shrine of Our Lady of Walsingham is a place of Christian worship, hospitality and recreation for all – pilgrims, tourists, the casual passer-by and the curious historian. At the heart of the Shrine is the Holy House where we celebrate Mary's 'yes' to God. Inspired by her life and prayers we aim to offer engaging worship, warm hospitality and creative educational opportunities.
Welcome to the website of the Anglican Shrine of Our Lady of Walsingham.
Hopefully, whether as a pilgrim - past, present or future - student, visitor or tourist, you will find this site helpful and that you will gain a sense of the very special quality of Walsingham - "England's Nazareth".
Get regular news and information about courses, retreats and pilgrimages, by becoming a member of the Society or a Priest Associate of the Holy House.
Today's Services
Mass

Sprinkling

Mass

Evening Prayer

Shrine Prayers
Westminster Abbey Festival
Read reports and sermons from the Walsingham Festival on Saturday 4th May in the historical surroundings of the Abbey.
Latest News
Commemorating The Translation of the Image, 15th October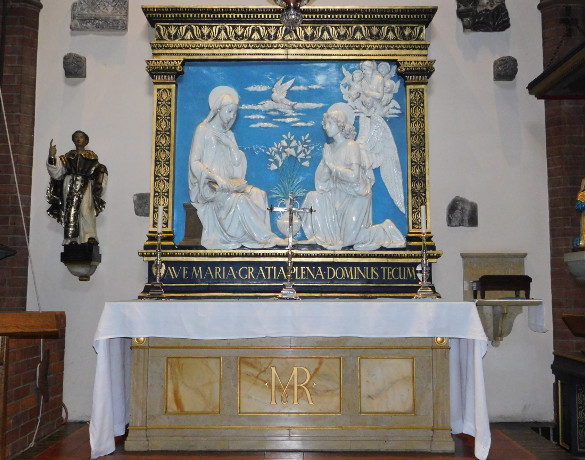 BOOK our Accommodation
We have availability to accommodate up to 200 pilgrims
Visit Our Online Shop
The Shrine Shop is an integral part of the shrine
Reports and Reflections
The Pilgrimage for Healing & Renewal, 26 August 2019
Victoria McDougall reports on the Shrine's annual Pilgrimage for Healing and Renewal in August.