Friday 1st - Sunday 3rd March 2024
An action-packed and prayerful weekend in England's Nazareth.
Did you know that Mary, Jesus' mother, wrote a song? When she heard that she was going to be pregnant with Jesus, she wrote a song to thank God for all the good things He had done for her.
We don't know what she was thinking regarding the pregnancy. We don't have a written word that describes her fear of what others would think or how they might treat her. All we have are these magnificent words that reveal her praises to God.
Join us to explore the message of having faith. We are to trust in God. No matter the situation or circumstance, God has it all in his hands. We should strive to imitate the heart and mind of Mary in every situation.
Our Children's Pilgrimage is a special weekend for children aged 7 to 11.
It begins on the Friday evening with supper at 6.30pm and then our first Visit to the Holy House is at 8.15pm. After a packed weekend, it concludes on the Sunday with lunch at 12.30pm.
What to expect
Lively worship and great music
Daily Mass
Sprinkling from the well
Interactive prayer stations
Holy Mile Walk
Procession and Benediction of the Blessed Sacrament
Make new friends
A fun-packed afternoon of activities
Disco
Accommodation
Your group will be staying in the Shrine's accommodation in a mixture of twin and triple rooms (with single rooms available for adults). Towels and soap are provided. Meals will be provided in the pilgrim refectory starting with supper 6.30pm on Friday 1st March and the last meal will be lunch on Sunday 3rd March 2024.
Price
CHILD £95
ADULT £126
Price includes all meals, accommodation at the Shrine, all activities and a free T-Shirt for each child. Adult T-Shirts are available to order for £10
Financial Support
The Shrine is able to provide financial support towards the cost of your travel. Email the Director of Education, Caroline Ward c.ward@olw-shrine.org.uk to apply, giving details of the cost of your transport.
How to book
To book your places at the 2024 Children's Pilgrimage:
Contact our Hospitality Department by phoning 01328 820239or via email- accom@olw-shrine.org.uk
Once you have booked your accommodation please fill the Education Department booking form by clicking here.
When we have received your booking you will be then sent a link to all the information that you will need to plan and attend the weekend.
Download the booklet
Download a copy of our information to share with parents or to advertise in your church or area.
Click here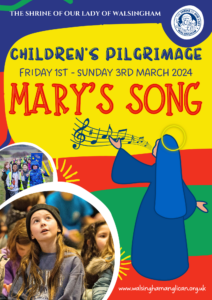 To get an idea of the Children's Pilgrimage you can have a look at the photographs from the 2023 event here.
Highlights of the 2022 Children's Pilgrimage.
In 2021 our Children's Pilgrimage was online due to the pandemic. You can view the content and the accompanying resources by clicking here