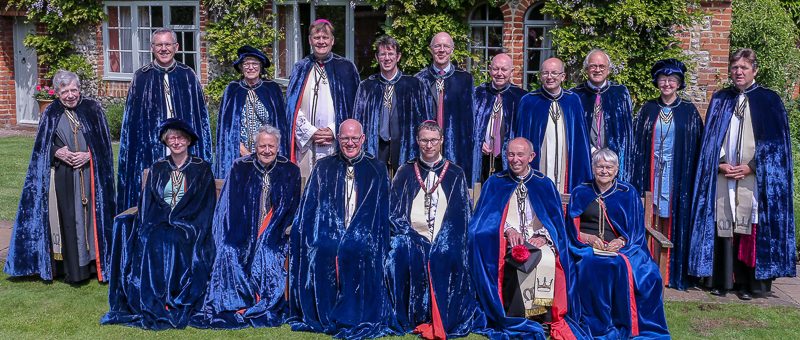 THE COLLEGE OF GUARDIANS
The College of Guardians was formed in 1931. It comprises twenty priests and laity (including the Priest Administrator) who are the legal trustees of the Shrine. The Guardians elect one of their number (who must be a priest) to serve as Master. The Guardians meet twice a year in Chapter (chaired by the Master) to oversee the affairs of the Shrine. Each Guardian is assigned a stall and an altar in the Shrine Church. When attending the Shrine Church or the National Pilgrimage each Guardian wears the insignia of a star suspended from black and white ribbon and a blue velvet mantle.
In addition to the full Guardians there are those who are retired from office (Guardians Emeritus) and those who live overseas or were thanked for their support of the Shrine (Honorary Guardians).
In addition, a small group of Guardians act as directors of The Walsingham College Trust Association Ltd., the registered charity which is responsible for all aspects of the Shrine's day to day work.
MEMBERS OF THE COLLEGE OF GUARDIANS
The Rt Revd Dr Martin Warner
1993
The Revd Howard Stoker●
2011
Mr John Downing●
1993
The Revd Brian Bell
2012
The Revd Dr Jeremy Sheehy
1997
Mr Andrew Roberts●
2012
Mr Richard Mantle=
1998
Ms Amanda McIntyre●
2015
The Rt Revd Philip North*●
2000
The Revd Philip Barnes
2016
Mr John Booth●
2001
Miss Mary Thorne
2019
The Revd Kevin Smith‡
2002
The Rt Revd William Hazlewood
2019
Mrs Ruth Ward+
2003
Mr Kit Read
2019
The Rt Revd Jonathan Baker●
2006
The Revd Mark McIntyre CMP
2020
The Revd Graeme Rowlands†●
2009
Dr Sonia Dore
2021
Guardians Emerit(i/ae)
Honorary Guardians
The Rt Revd Lord Hope of Thornes
1978
The Rt Revd Keith Ackerman
1996
Major Patrick King
1991
The Rt Revd Alan Chesters
1999
Mrs Barbara Marlow
1997
The Rt Revd Graham James
2005
The Rt Revd Lindsay Urwin OGS
2006
Dr Brian Hanson
1984
Baroness (Margaret) Eaton
2014
 
The Revd John Gribben CR
1993
Betty Jarrett
2003
Visitor
The Rt Revd Tony Robinson                              2009

* Master † Registrar
‡ Priest Administrator
● Director WCTA Ltd
= Treasurer
+ Company Secretary