Adoremus (Young adults )2023
Date:

Friday 24th November 18:30 pm – Sunday 26th November 16:00 pm
More information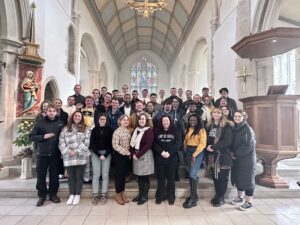 I believe…
Our pilgrimage for Young Adults (18-35 years old)
Adoremus is a weekend programme at the Shrine of Our Lady of Walsingham specifically designed for students and young adults.
The weekend offers opportunities for faith sharing, catechesis, prayer and fellowship. We invite you to join us as we journey with Mary in faith and discipleship to a deeper understanding of Jesus Christ and His church.
This year's theme is I believe- A journey through the Nicene Creed, in advance of the 1700th anniversary of the Council of Nicea in 2025. An opportunity for us to spend time with a familiar text, to learn about its formation and history, to explore our common faith which we share with Christians throughout the world and across time, and to reflect on its importance in our lives as Christians today.
As well as the teaching sessions, there will be the usual pilgrimage programme including: First Visit; Pilgrimage Mass; Liturgy of Reconciliation and Benediction; Sprinkling and Last Visit.
The weekend begins with supper at 6.30pm on Friday 17th November and ends with Sprinkling, Benediction and Last Visit at 2.30pm on Sunday 18th November.
£120 each Full Board
A £50 travel grant is available to students and pastoral assistants.
To book please contact the Hospitality Department by phoning 01328 820239
or via email- accom@olw-shrine.org.uk
Go back